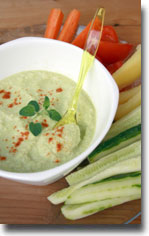 Green garbanzo beans purée to a creamy texture for this simple variation on hummus that is bright, fresh and green. Serve with crisp raw veggies and pita chips or tortilla chips.
The chickpea or chick pea is a legume of the family Fabaceae, subfamily Faboideae. Its different types are variously known as gram or Bengal gram, garbanzo or garbanzo bean, and Egyptian pea.
Number of servings: 6, 120 calories per serving.
Ingredients
1 (10 ounce) bag frozen green garbanzo beans
2 tablespoons lemon juice
2 tablespoons Braggs Aminos
2 cloves garlic
Pinch cayenne pepper
Instructions
Cook beans according to package instructions. Drain and run under cold water to cool. Place ingredients in the bowl of a food processor and process until smooth. Chill until ready to serve.