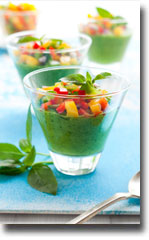 Try this dazzling take on the classic chilled Spanish soup – this version is made with green vegetables and herbs. Before the Spanish arrived in Mexico in the 1500s, they had never even seen a tomato, much less cooked with one. The Old Country gazpacho got its color from cucumbers, and once you've tried it you'll understand why the green version is still preferred over the red in some quarters.

Makes 4 servings, 250 calories each
Ingredients
100g bag baby spinach
2 garlic clove
1 large cucumber, deseeded and chopped
½ green chilli, deseeded
½ small pack parsley
½ small pack basil
½ small pack mint
1 ripe avocado, stoned and peeled
4 spring onion, topped and tailed
2 tbsp sherry vinegar
handful pea shoots
Directions
Put all the ingredients, except the oil, pea shoots and ice cubes, into a food processor with a good pinch of salt and pepper and blitz, adding enough water to get a soupy consistency. Taste, and add a little more vinegar and seasoning if necessary. Chill for up to 24 hrs, or at least 2 hrs.
To serve, add some cut veggies on top.