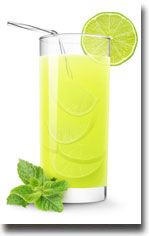 Despite differences in size, flavor and color, lemons and limes share the same nutritional benefits. Both are low in calories and are good sources of dietary fiber, and they help you meet your daily needs for vitamins C and B-9. In addition, lemons and limes contain limonoids, which are compounds that may help prevent and treat cancer.
Number of servings: 1, 180 calories per serving.
Ingredients:
2 stalks of celery
1 apple
3 lemons, peeled and sectioned
1 lime, peeled and sectioned
green grapes as needed to sweeten
water as needed
Instructions:
Combine everything into your blender and blend (depending on your blender, celery made need to go through a juicer).
Add more water if needed to get things moving around in the blender.