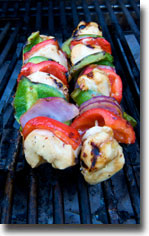 Kebab is a Middle Eastern, Eastern Mediterranean, and South Asian dish of pieces of meat, fish, or vegetables roasted or grilled on a skewer or spit  originating either in the Eastern Mediterranean or the Middle East, before spreading worldwide. In the U.S.., they have been popularized as "kabobs" with some restaurants specializing in them.
Serves one, 280 calories per portion.
Ingredients:
1 red pepper cut into wedges
1 green pepper cut into wedges
1 red onion cut into wedges
2 tbsp red wine
1 tbsp olive oil
3 tbsp hoisin sauce
1 8oz vegan chicken (i.e. Beyond Meat brand)
salt and pepper
2 skewers
Directions:
Mix the peppers, onion, hoisin, red wine and olive oil in a bowl.
Thread the veggies onto the skewers.
If needed, cut vegan chicken into 2" cubes and rub salt and pepper into each side.
Place vegan chicken on skewers on an uncovered grill until desired doneness, turning halfway through.
Serve alone or with salad or over rice.