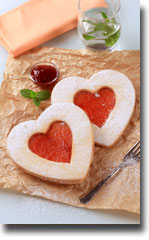 These sweet heart-shaped cookies are filled will raspberry jam and topped with powdered sugar. Have them with a cup of coffee or share them with a friend. A box of them makes a lovely alternative to flowers as a gift for a loved one.  These cookies taste amazing and are beautiful. They are so easy to make. Just make sure you refrigerate the dough before you roll out. I roll out dough between two pieces of saran wrap.

Number of servings: 24 cookies, 380 calories per serving.
Ingredients:
2 cups all purpose flour
1 cup almonds (ground into 1 1/2 cups meal)
2 teaspoons baking powder
1/4 teaspoon sea salt
1/3 cup cold-pressed vegetable oil or melted, unsalted butter
1/3 cup apple juice
1/3 cup maple syrup
1 teaspoon vanilla extract
Raspberry preserves
Directions:
Preheat oven to 350 degrees.
Combine flour, almonds, baking powder, and salt in a mixing bowl; set aside.
In a separate bowl, mix oil, juice, syrup, raw cacao nibs (or dark chocolate chips), and vanilla.
Add wet ingredients to dry and mix well, kneading a little.
Put dough on rolling board and roll flat (about 1/4 of an inch).
Use heart-shaped cookie cutter to make 2 cookie cut-outs.
The first cookie cut-out will be made with a larger cookie cutter. This will be the bottom piece of the cookie
The second cookie cut-out will also be made with a larger cookie cutter, but you will follow afterward with a smaller heart-shaped cookie cutter to remove the center of the cookie.
Place the second piece ( with the heart-shaped hole in the middle on top of the first cut-out cookie piece.
Place on lightly oiled cookie sheet.
Put 1 teaspoon preserves in the imprint.
Bake 20 minutes, until edges turn golden.