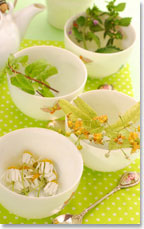 Conventional medical treatment for insomnia includes psychological and pharmacological approaches; however, long-term use of prescribed medications can lead to habituation and problematic withdrawal symptoms. Therefore, herbs with sedative-hypnotic properties are a practical alternative as they do not have the drawbacks of conventional drugs. Despite recent advances in the development of newer hypnotics in Western medicine, a significant proportion of patients with insomnia prefer herbal hypnotics.
A 2006 analysis of national survey data revealed that over 1.6 million American adults use some form of complementary and alternative medicine (CAM) to treat insomnia or trouble sleeping. Those using CAM to treat sleeping disorders were more likely to use biologically based therapies (nearly 65%), such as herbal therapies, or mind-body therapies (more than 39%), such as relaxation techniques.
The majority of people who used herbal or relaxation therapies to treat insomnia indicated that they were helpful. The researchers noted a connection between trouble sleeping and six significant health conditions: depression, anxiety, diabetes, hypertension, congestive heart failure, and obesity. Other key points reported in the analysis included:
Nearly 61% of those who reported trouble sleeping were women versus about 39% men.
Insomnia peaks in middle age (45 to 64 years old) and a second increase occurs in people 85 and older.
Those with higher education were less likely to report insomnia or trouble sleeping.
California Poppy
California poppy (Eschscholzia californica) is a sedative and sleep-promoting herb used in a variety of herbal remedies sold in the United States for relaxation and easing mild anxiety. Because of its mild sedative and analgesic properties, it's often given to children. Clinical studies with California poppy have clearly demonstrated the plant's sedative and anti-anxiety properties, showing it can improve both sleep latency and quality.
Corydalis
Corydalis (Corydalis flavula), a native herb of the Chinese province of Zhejiang, has been shown to influence the nervous system, providing pain relief and promoting relaxation. In studies, people with insomnia were able to fall sleep more easily after taking dl-tetrahydropalmatine (DHP), an extract of corydalis.43 Participants taking the extract reported no drug hangover symptoms, such as vertigo or dizziness.
Hops
Hops (Humulus lupulus) has been used in traditional European medicine as a mild sedative for the treatment of anxiety, nervousness, and insomnia. In one study of hops and insomnia, scientists determined that the compounds ethanolic and CO2 extracts in the hops increased the ketamine-induced sleeping time and reduced body temperature, confirming a central sedating effect.
Kava
Kava (Piper methysticum) is a well-established hypnotic drug, with a rapid onset of effect, adequate duration of action and minimal morning after-effects. However, reports of serious hepatotoxicity with this preparation have led to it being banned in many countries. British researchers used a combination of kava and valerian in a study of 24 patients suffering from stress-induced insomnia. At the 6-week mark, improvements in insomnia were evaluated in terms of time to fall asleep, hours slept, and waking mood. All measures of sleep were significantly improved. Although kava can an effective sedative, it should be taken with medical supervision as it can cause liver damage in some people.
Passion Flower
Herbalists consider passion flower (Passiflora incarnata) an important herb for insomnia caused by mental worry, overwork, or nervous exhaustion. In the United Kingdom, passion flower is an ingredient in commonly-sold sedative preparations. Passion flower has been used for minor sleep problems in both children and adults. It is an excellent sedative with no side effects.
Valerian
In modern herbal medicine, the leading herb for insomnia is valerian root (Valeriana officinalis). Valerian can make falling asleep easier and encourages deeper sleep and dreaming. Numerous studies have shown valerian to be effective in improving sleep quality and helping people to fall asleep sooner. Research has also concluded that valerian has less side effects than drug therapy, including less impairment in performance the day after treatment. For example, valerian does not cause a morning hangover, the side effect common to prescription sleep drugs. One study determined that valerian taken 30 minutes before bedtime for 28 days was as effective as oxazepam (Serax), a commonly prescribed medication for insomnia. In another study, a combination of valerian root and lemon balm at bedtime was as effective as the sleeping drug triazolam (Halcion). Moreover, only the Halcion group felt hung over and had trouble concentrating the following day. Another double-blind trial found a combination of valerian and lemon balm taken before bed improved sleep quality in one-third of the participants.
Herbal Combinations
Combining valerian root with other mildly sedating herbs is common both in Europe and the United States. Chamomile, hops, passion flower, lemon balm, American scullcap, and catnip are often used as sleep remedies. These herbs are used alone or in combination as mild sedatives for those suffering from insomnia. Chamomile is frequently used by people whose insomnia is related to gastrointestinal upset. In addition to valerian, hops and lemon balm are approved by the German government for relieving sleep disturbances.
Ayurvedic Herbs
Herbs are considered nutritional supplements in Ayurvedic medicine. Their purpose is to restore balance, aid the healing process, strengthening digestion, and help the body purify itself of toxins and free radicals. A study at the University of California at San Diego found a particular Ayurvedic herbal combination helpful for insomnia.58 Participants were 25 healthy volunteers aged 20 to 65 years of age suffering from insomnia. After administration of the herbs, participants fell asleep 16 minutes faster than the placebo group. The researchers concluded, "The findings suggest that traditional herbal supplements may be of significant benefit to patients suffering from sleep onset insomnia while avoiding the negative side effects of commonly prescribed hypnotics."
Insomnia can be naturally relieved with herbal teas, infusions and baths. Professional herbalists do not prescribe herbs simply to treat symptoms such as insomnia but aim to correct the imbalances within the body that cause those symptoms. For example, sedative herbs such as hops and valerian are used to relax the nervous system to that you enjoy natural, restorative sleep. Each herb contains a variety of active constituents and has a main action and several subsidiary actions which determine the conditions for which it is most appropriate.