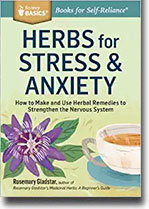 Treat stress, anxiety, depression, and more with simple herbal remedies that calm your mind, build a healthy nervous system, and promote lasting peace. In this informative guide, renowned herbalist Rosemary Gladstar profiles 21 herbs proven to be effective at soothing common ailments like insomnia, panic attacks, skin conditions, and migraines.
With simple directions for making herbal mixtures that can be used in delicious teas, tinctures, and capsules, Gladstar shows you how to harness the power of nature to achieve a more relaxed and fulfilling life.
This is a surprisingly informative pamphlet for its length, containing specific information that you won't get researching herbs on the internet. I highly recommend the read, but I docked a star because the author more or less tells you to drink 25 cups of tea per day when it would be much more reasonable to take the medicine in tincture form or as a capsule.
Excellent reference to help overcome the stress and anxiety in a person's life. It is important not to put toxins in your body that will only accumulate and have side effects. Ingesting herbs is so beneficial for your body and provides the added nutrients that the body is able to absorb.
Drawing on her 40-plus years of studying and teaching about the healing properties of herbs, Rosemary Gladstar is the best-selling author of Rosemary Gladstar's Medicinal Herbs: A Beginner's Guide and Rosemary Gladstar's Herbal Remedies for Vibrant Health. She is a world-renowned educator, activist, and entrepreneur, serving as director of Sage Mountain Herbal Retreat Center, the International Herb Symposium, and the Women's Herbal Conference. Gladstar is founding president of United Plant Savers, a nonprofit organization dedicated to the conservation and preservation of native American herbs. She was the original formulator for Traditional Medicinal herbal teas and currently leads herbal educational adventures around the world. She lives in East Barre, Vermont.
Author: Rosemary Gladstar
Year of Release: 2014