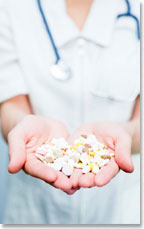 Sometimes, symptoms of depression or mania are a side effect of certain drugs, such as steroids or blood pressure medication. If you're taking antidepressants, tranquilizers, or stimulants such as the amphetamines or Ritalin, it's fairly obvious that they are going to affect your mood.
But what about less obvious medication such as the hundreds of other drugs can alter mood, drugs you would not normally expect to have that effect? For example, some antibiotics and many blood pressure drugs affect mood, and consumers seldom get the proper warning.
The other problem is drugs supposed to create one change in mood have an opposite or some other unexpected effect. Some people become anxious or hostile after taking tranquilizers.
Generally the mood effects of drugs tend to fall into two patterns. Some drugs are downers, and make people feel tired, listless,dully,not interested in things, or quite depressed. Many others are stimulants, making people anxious, jittery, unable to sleep, panicky or fearful. Antidepressant drugs can swing either way: making people anxious or nervous, or sleepy and sedated.
Even more problematical are the cases where the drugs trigger hallucinations or aggression, hostility or outright psychosis (hearing voices, seeing visions).
However, in some ways, the more subtle mood affects are the worst because the consumer doesn't think to blame the drug. It is important to be aware that a lot of drugs can affect mood in some people. If you discover you don't seem to be your usual self put the drug on your list of suspects.
If you do detect or suspect unwanted effects on mood, an alternative drug often be found to accomplish the medical purpose without throwing your world out of whack.
Be sure to tell your doctor or therapist what medications you take and when your symptoms began. A professional can help sort out whether a new medication, a change in dosage, or interactions with other drugs or substances might be affecting your mood.
Researchers disagree about whether a few of these drugs – such as birth control pills or propranolol – actually affect mood. Most people who take the medications listed will not experience mood changes, although having a family or personal history of depression may make you more vulnerable to such a change.
Some of the drugs cause symptoms like malaise (a general feeling of being ill or uncomfortable) or appetite loss that may be mistaken for depression. Even if you are taking one of these drugs, your depression may spring from other sources.