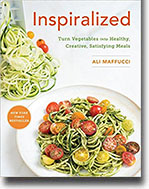 On her wildly popular blog, Inspiralized, Ali Maffucci is revolutionizing healthy eating. Whether you're low-carb, gluten-free, Paleo, or raw, you don't have to give up the foods you love. Inspiralized shows you how to transform more than 20 vegetables and fruits into delicious meals that look and taste just like your favorite indulgent originals. Zucchini turns into pesto spaghetti; jicama becomes shoestring fries; sweet potatoes lay the foundation for fried rice; plantains transform into "tortillas" for huevos rancheros.
Ali's recipes for breakfast, snacks, appetizers, sandwiches, soups, salads, casseroles, rices, pastas, and even desserts are easy to follow, hard to mess up, healthful, and completely fresh and flavorful. Best of all, she tells you how to customize them for whatever vegetables you have on hand and whatever your personal goal may be—losing weight, following a healthier lifestyle, or simply making easy meals at home.
Here, too, are tons of technical tips and tricks; nutritional information for each dish and every vegetable you can possibly spiralize; and advice for spiralizing whether you're feeding just yourself, your family, or even a crowd. So bring on a hearty appetite and a sense of adventure—you're ready to make the most of this secret weapon for healthy cooking.
If you are new to spiralizing you don't really need this book, Ali has enough info and recipes to get you started for free on her website. I bought three copies of this book for myself and friends purely because I wanted to monetarily support her because she has helped me so much.
The key to spiralizing is actually getting out your spiralizer and using it. Once you get in the habit of it you will see how spiralizing is so much faster than cutting up vegetables, and most veggies you can spiralize ahead of time and store in your fridge ready to use. Make sure you read Ali's tips on cleaning the spiralizer and which veggies you can spiralize ahead of time.
Author: Ali Maffucci
Year of Release: 2015