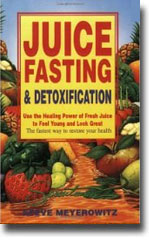 Juice Fasting and Detoxification: Use the Healing Power of Fresh Juice to Feel Young and Look Great explains how to fast using raw fruit & vegetable juices while maintaining a nearly normal work and living schedule. Includes: Juice recipes, detoxification techniques, exercises, weight loss, water fasting; about the organs of elimination; how to handle a "healing event," and how to exit a fast safely.
Food is one of the most powerful addictions in life. At 900 billion dollars per year, we spend more on food than on our homes! It is our second greatest living expense surpassed only by the medical care we sometimes need to correct our dietary overindulgence.
According to Meyerowitz, man can survive on only one third of his daily food intake. The other two thirds goes to benefit the health insurance and medical care industries.
The human body, if not compromised by overconsumption, bad food, bad air, polluted water, stress and emotional trauma, has an incredible capacity for healing and longevity. Within it is an innate intelligence more powerful than any drugs or a surgeon's knife.
Juice fasting gives your body a well deserved vacation and the potential to repair itself. It's easier than you think. Even just one fast day per week provides 50 rejuvenating days per year. Give your cells and yourselves the opportunity to cleanse, nourish, rejuvenate and heal.
Fasting helps increase energy and improve mental alertness; Heal chronic ailments without drugs; lose weight without the hassle of diets; maintain stamina with absolutely no hunger. Fast at home or at work—it's perfect for a busy lifestyle and all the while enjoy dozens of quick and delicious juice recipes.
Author: Steve Meyerowitz
Year of Release: 1999