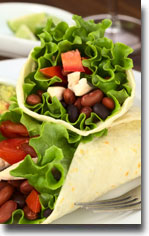 he creamy texture of red kidney beans makes them the perfect partner for strong flavors and spices. Still, you can substitute other bean (such as pinto beans, black beans or cannelini beans) in place of the kidney beans. These are so tasty and wonderfully healthy. High in protein and low in fat.
Serves one, 250 calories per portion.
1/4 cup cooked kidney beans, rinsed and drained
2 tablespoons salsa
2 tablespoons diced red onion
Lettuce
Handful diced water chestnuts
1 small whole-wheat tortilla
Mix beans, salsa, onions, lettuce, water chestnuts, and cilantro and fill tortilla with the mixture.