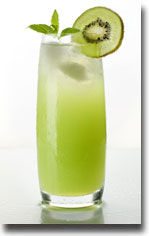 From ancient China to cutting-edge California, the story of kiwifruit is a rich and colorful saga. Eating kiwifruit daily can provide substantial protection against DNA damage that can trigger cancer and, more significantly, greatly speeds the repair of DNA damage.
Number of servings: 1, 290 calories per serving.
Ingredients:
2 cups peeled and diced kiwis
1/2 cucumber diced
5 mint leaves
Water and ice if needed
Garnish: mint sprig and sliced of kiwi
Instructions:
Combine everything into your blender and blend.
Add more water if needed to get things moving around in the blender.
Garnish with mint sprig and sliced of kiwi.