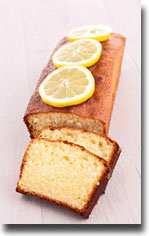 Years ago, while volunteering at an event in California, I discovered this recipe. For a Christmas party, I baked this pound cake. Everyone raved over how good it was. When I told them I'd made them myself, they were astonished.
Number of servings: 8, 380 calories per serving.
Ingredients:
CAKE
1 cup vegan butter, softened, plus more for the pan
2 cups granulated sugar
2 tbsp powdered egg replacer + 4 tbsp water (like Bob's Red Mill egg replacer)
1/2 cup + 1 tbsp plain, vegan yogurt
1 tbsp finely grated lemon zest
1 tsp vanilla
3/4 cup plain almond milk
1/3 cup + 2 tbsp fresh lemon juice
3 cups white flour, plus a bit more for the pan
1 1/2 tsp kosher salt
1/2 tsp baking powder
1/2 tsp baking soda
GLAZE
1/3 cup granulated sugar
1/3 cup lemon juice
DRIZZLE
1/2 cup powdered sugar
2 tbsp lemon juice
1 tbsp finely grated lemon zest
1/2 tsp vanilla
Directions:

Preheat oven to 350 degrees. Butter and flour a bundt pan, or 2 loaf pans.
Place the butter and sugar in a large bowl, and cream with an electric mixer, until fluffy.
In a small bowl, whisk together the egg replacer, water, and 2 tablespoons of lemon juice, until smooth. Add the yogurt, zest, and vanilla and whisk again, to combine.
Add 1/4 of the egg replacer/yogurt/zest mixture to the creamed butter and sugar at a time. Beat well between each addition.
In a liquid measuring cup, stir the almond milk and lemon juice together.
In a medium sized bowl, stir together the flour, salt, baking powder, and baking soda.
Mixing on low, add 1/3 of the flour mixture, followed by 1/2 of the milk. Repeat, mixing gently between additions. End with the last 1/3 of flour. Beat just until the batter comes together, and be sure not to overmix.
Spread the batter in the bundt pan, or divide evenly into the 2 loaf pans. Bake for 40-50 minutes for loaf pans, or about 50 minutes for the bundt pan. The cake is done when a toothpick inserted in the center comes out clean.
While the cake is baking, make the glaze. Bring the juice and sugar to a simmer in a small sauce pan, over low heat. Stir, to dissolve the sugar, then remove from heat. Reserve until the cake is done baking.
When the cake(s) come out of the oven, cool in the pan for 15 minutes, if using loaf pans, or 25-30 minutes, if using a bundt pan. Turn the cake out onto a wire rack. Use a pastry brush to spread the glaze over the cake (top and sides of loaves, entire surface of bundt. All the cake to cool and dry completely, which will take at least 2 hours.
Make the drizzle, by whisking all the ingredients in a small bowl. Set the wire rack over a waxed paper lined baking sheet. Pour the drizzle over the cooled cake, allowing it to run down the sides. Allow the drizzle to dry and harden, about 30 minutes.
Slice and serve. Store leftover cake in the refrigerator.
Optional: serve with coconut whipped cream on top.
Click here for the Coconut Whipped Cream recipe