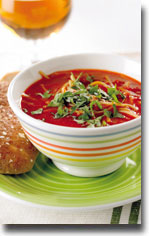 The earliest archeological dating of lentils is from the Paleolithic and Mesolithic layers of Franchthi Cave in Greece (13,000 to 9,500 years ago) and from the end-Mesolithic at Mureybit and Tell Abu Hureya in Syria, and about 8000 B.C. in the Jericho area of Palestine. Other remains come from Çayonü, Turkey dated at 6700 B.C and the many other sites in the Middle and Near East. The lentil was an important crop in ancient times and the size of its seeds have slowly increased since classical times.
Number of servings: 6, 270 calories per serving.
Ingredients:
2 large garlic cloves, minced
1 sweet onion, diced
2 celery stalks, diced
2 carrots, slice into stings
1 bay leaf
1 & 1/4 tsp ground cumin
2 tsp chili powder
1/2 tsp ground coriander
1/4-1/2 tsp smoked sweet paprika, to taste
14-oz can diced tomatoes
5-6 cups vegetable broth, more if desired
1 cup red lentils, rinsed and drained
Braggs Aminos and pepper, to taste
2 handfuls torn kale leaves or spinach
Directions:
In a large pot, sauté the onion and garlic in oil for about 5-6 minutes over medium heat. Add in the celery and carrots and sauté for a few minutes more.
Stir in the bay leaf and the spices (cumin, chili powder, coriander, paprika). You can add half the spices and add more later if you prefer.
Stir in the can of tomatoes (including juice), broth, and lentils. Bring to a boil, reduce heat, and then simmer, uncovered, for about 20-25 minutes, until lentils are tender and fluffy.
Stir in kale or spinach and season to taste adding more spices if you wish.