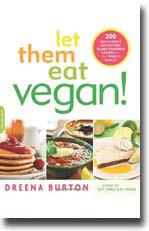 Let Them Eat Vegan!: 200 Deliciously Satisfying Plant-Powered Recipes for the Whole Family is a user-friendly, family friendly positive cookbook with recipes that should appeal to all age ranges and varied palates.It's a great place to start if you're just getting into veganism. Burton breaks everything down into very simple terms in the introduction.  There's also a metric conversion chart in the back, great tutorial on cooking beans, a whole section on smoothies and much more
Vegan food has come a long way in the past decade. The once ubiquitous dry, packaged veggie burger is no longer the poster child for an animal-free diet. It has evolved into a creative, sophisticated cuisine touted by the likes of Food & Wine magazine.
Long at the fore of vegan blogging and cooking, Dreena Burton has been known for making healthy taste delicious. Let Them Eat Vegan! distills more than fifteen years of recipe development that emphasize unrefined, less-processed ingredients–no white flour or white sugar, but instead whole-grain flours, natural sweeteners, raw foods, and plenty of beans 'n greens.
There's no relying on meat analogues here, either–just hearty, healthy food that looks and tastes great. As the mother of three young girls, Burton always keeps their nutrition–and taste buds–in mind. From the simplest comfort foods like Warm "Vegveeta" Cheese Sauce to the more sophisticated Anise-and Coriander-Infused Orange Lentil Soup, these recipes will delight and inspire even the pickiest eaters and provide lifelong vegans with the innovative, wholesome recipes they've always wanted.
Let's see – what's great about this book? Well, there is a very helpful pantry section that suggests what you might want to stock up on, and why. There's a whole section on healthy green smoothies AND a section on veggie burgers that includes some not-too-spicy ones that kids will love. And the award-winning raw b-raw-nies are in here! (And they are good!!) The book is very nicely laid out so that recipes are mostly all on one page or on a two-page spread, which makes for easier cooking. It's a great book for "beginner vegans" and for those with experience who want to add some new recipes to their repertoire.
Author: Dreena Burton
Year of Release: 2012