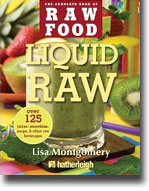 Liquid Raw: Over 125 Juices, Smoothies, Soups, and other Raw Beverages provides new ways to eat raw with delicious smoothies, milks, and soups.
If you're just starting out in the raw lifestyle, or have been a raw foodie for years, Liquid Raw is your source for fun and exciting meal ideas. Liquid foods are often easier to prepare and digest, providing the perfect transition for those beginning a raw diet.
For those experienced in the raw foods lifestyle, Liquid Raw offers a new twist on many staples, as well as inspiration to keep your diet interesting. With a variety of juices, smoothies, dressings, soups, and milks, Liquid Raw offers excellent raw food recipes that are sure to please!
Some of the over 125 refreshing and creative recipes featured in Liquid Raw include Green Smoothie, Strawberry Choco-Nanna Smoothie, Un-Egg Nog, Almond Milk, Chocolate-Cherry Shake, Ruby Rejuvenating Juice, Lemon-Zucchini Bisque, Moroccan Tomato Ginger Soup, Strawberry-Mango Pudding, Chocolate Mousse, and much more.
Packed with lots of practical and helpful information, Liquid Raw also includes:
Guide to the health benefits of a raw diet
An introduction to juicing
Tips for finding the perfect juicer and blender
With unique and exciting raw recipes, Liquid Raw is sure to bring your raw diet to new heights. Lisa Montgomery graduated with a degree in Business in 1979, but soon developed a passion for health and nutrition. Today, she is a Holistic Health Care Practitioner, and has graduated from the Living Light Culinary Arts Institute as an associate/chef instructor.
Author: Lisa Montgomery
Year of Release: 2011