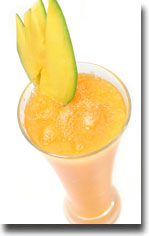 Mangoes have been cultivated in South Asia for thousands of years and reached East Asia between the fifth and fourth centuries BC. By the 10th century AD, cultivation had begun in East Africa. The 14th-century Moroccan traveler Ibn Battuta reported it at Mogadishu. Cultivation came later to Brazil, the West Indies, and Mexico, where an appropriate climate allows its growth.
Number of servings: 1, 265 calories per serving.
Ingredients:
2 cups Pellegrino
2 cups diced mango
Juice from 1/2 lemon
1/2 cup coconut milk
3 ice cubes
Instructions:
Combine everything into your blender and blend.