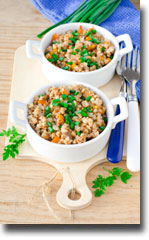 Energizing and nutritious, buckwheat is available throughout the year and can be served as an alternative to rice or made into porridge. Roasted or raw buckwheat gives this soup body so that it tastes as if it has been simmering for hours. Buckwheat could be easily substituted with pearled barley, bulgur, proso millet or even rice. It all depends on what you have in your pantry and so the possibilities are quite endless.
Serves four, 290 calories per portion.
Ingredients
1 tablespoon extra-virgin olive oil
1 large yellow onion, diced
2 shallots, finely chopped
3 garlic cloves, minced
6 cups gluten-free, yeast-free vegetable broth
28 ounces whole tomatoes
1 ½ cups raw buckwheat groats, rinsed
2 tablespoons balsamic vinegar
2 sprigs fresh rosemary
½ teaspoon dried marjoram
2 cups chopped eggplant
1 cup (300 mL jar) roasted red peppers, drained and cut into strips
1 cup baby spinach
½ cup black olives, pitted and sliced
½ teaspoon sea salt
Freshly ground black pepper, to taste
Directions
Heat oil in a large saucepan on medium-high heat. Add onion, shallots and garlic and saute until soft and translucent, about 10 minutes.
Add broth, tomatoes, buckwheat, vinegar, rosemary and marjoram. Cover, bring to a boil and reduce heat to low and simmer until the buckwheat is tender, about 20 minutes. Stir in the chopped eggplant 10 minutes in.
When complete, stir in the roasted red peppers, spinach, and olives. Allow to cook until heated through, season with salt and freshly ground pepper.
Remove rosemary sprigs before serving.