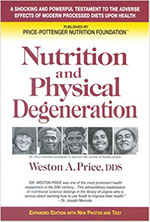 This book developed from an epic study demonstrating the importance of whole food nutrition, and the degeneration and destruction that comes from a diet of processed foods. For nearly 10 years, Weston Price and his wife traveled around the world in search of the secret to health. Instead of looking at people afflicted with disease symptoms, this highly-respected dentist and dental researcher chose to focus on healthy individuals, and challenged himself to understand how they achieved such amazing health.
Price traveled to hundreds of cities in a total of 14 different countries in his search to find healthy people. He investigated some of the most remote areas in the world. He observed perfect dental arches, minimal tooth decay, high immunity to tuberculosis and overall excellent health in those groups of people who ate their indigenous foods.
Price found when these people were introduced to modernized foods, such as white flour, white sugar, refined vegetable oils and canned goods, signs of degeneration quickly became quite evident. Dental caries, deformed jaw structures, crooked teeth, arthritis and a low immunity to tuberculosis became rampant amongst them. He documented this ancestral wisdom including hundreds of photos in his book, Nutrition and Physical Degeneration.
Price was a Cleveland dentist, who has been called the Charles Darwin of Nutrition. Searching for the causes of dental decay and physical degeneration he observed daily in his dental practice, he turned from test tubes and microscopes to study people with fine teeth the isolated primitives.
For those who are concerned with the credibility of the book, it's very consistent with what anthropologists and field physicians were saying at the time. Price also published some of his findings in respected peer-reviewed journals like JAMA and JADA during his lifetime. His genius was in consolidating information from many different cultures and examining what they had in common. Modern Western food habits have left a trail of destruction throughout the world, and it was painfully obvious to anyone observing a transition from traditional foods to industrially processed Western foods.
Price and other groups of researchers have shown that modern degenerative disease is caused by a modern diet, yet mainstream nutrition research continues to fumble around in the dark. These days, researchers conduct studies that compare the sick to the sicker and confuse correlation with causation. This information then gets conveyed to us by a media that is completely unscientific and more concerned with creating a big story than conveying sound information. Leave them all in the dust and learn how to be truly healthy by reading the most important and most overlooked piece of health research ever published.
Author: Weston A. Price
Year of Release: 2009