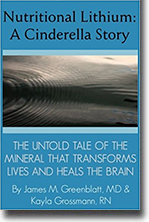 In a nation plagued with chronic diseases such as cancer, heart disease, and diabetes, a different predator is the single greatest reason for disability in the United States: mental disorders.
Our fast-paced and frenetic lifestyle, coupled with a grossly polluted environment, has created the perfect breeding ground for mental instability. With the spread of brain disorders on the rise around the world, nutritional biochemistry and one of its stars, lithium, has stepped into the spotlight to offer proven methods to heal our bodies from the inside out.
Historically linked to severe psychiatric illness, lithium as an agent of good health and well-being is often ignored and brushed aside. Known as the Cinderella drug, it is an essential mineral in our physical and psychological makeup.
Lack of its presence in the body can result in poor brain development, psychiatric symptoms, and so on. When administered in small, controlled doses, lithium can significantly improve the lives of those suffering from mental disorders.
Nutritional Lithium: A Cinderella Story illustrates the significance of this precious mineral not only as a nutrient vital to human development, but also as a nutritional component that can help millions of people worldwide.
James M. Greenblatt, MD, currently acts as the chief medical officer at Walden Behavioral Care in Waltham, Massachusetts, and serves as an assistant clinical professor of psychiatry at Tufts University School of Medicine and Dartmouth's Geisel School of Medicine.
After receiving his medical degree and completing his psychiatry residency at George Washington University, Greenblatt went on to complete a fellowship in child and adolescent psychiatry at Johns Hopkins Medical School. Greenblatt's published works include The Breakthrough Depression Solution, Answers to Binge Eating, Answers to Anorexia, and Integrative Therapies for Depression.
Kayla Grossmann, RN, works as a nurse advocate and educator specializing in integrative health research and practice. Grossmann serves as lead content creator for the Radiant Life Company and maintains an active yoga therapy practice in the greater Boston area.
Authors: James M. Greenblatt and Kayla Grossmann
Year of Release: 2016