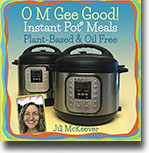 O M Gee Good! Instant Pot® Meals, Plant-Based & Oil-Free is the first plant-based, oil-free Instant Pot® cookbook. Jill McKeever, author, wrote this family-pleasing cookbook solely for Instant Pot® owners. Inside you'll find 34 plant-based, oil-free meals and sides your family will ask for again and again.
Looking at the Instant Pot® with all its function buttons can give some folks the feeling that cooking is made easier with a push of a button. As for others, multiple buttons can be overwhelming and confusing. Take a breath. There are four cooking functions most commonly used in this book; Keep Warm/Cancel, Sauté, Manual, and Slow Cook.
The cooking directions are written so even the newest Instant Pot® owner can whip up a delicious meal with ease. Jill compiled all her fan's favorite Instant Pot® recipes from her YouTube channel, Simple Daily Recipes, and brought them together in this book. Every recipe comes with a mouthwatering photo and easy to read list of ingredients and directions. Also included is a quick reference pressure cooking chart for beans/legumes, grains, and vegetables.
You won't have to worry about your family eating their veggies when you make, Awesome Tex-Mex Lasagna Stack, Barbecue Cabbage Sandwiches, Barbecue Shredded Soy Curls, Barbecue Lentils, Bring Along Black Bean Hash, Chili Bean Goulash, Creamy Soy Curls Alfredo, Extra Creamy Tomato Spinach Pasta, Ethiopian Inspired Stew, Memaw's Beefless Stew, Memaw's Soy Curls Pot Pie, Go-To Lentil Soup, Slow Cooked Pasta-free Lasagna, Spinach Tacos, Thick & Creamy Nacho Sauce, Vegan Sausage Scramble, Veggies in Creamy Curry Sauce or Veggies in Creamy Curry Sauce.
For those not familiar with Jill on You-Tube you are missing a treat, she is funny and down to earth! This cookbook is so incredibly great for all first time Instant Pot owners to find some delicious and easy recipes.This is a plant based cookbook so if you want to know how to cook meat this is not for you. I have had my IP for over a yr and along with Jill Nussinow's cookbook this one is a must have. The pictures are great, the directions are super easy and the ingredients are things you would have on hand. She is good with helpful hints and making cooking fun.
Author: ill Nussinow
Year of Release: 2015