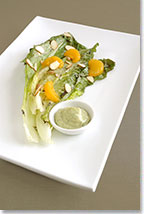 Cilantro is a herb that is related to parsley. It is a tasty addition to soups and other dishes, and the nutrients it contains may offer a range of health benefits. Like many fruits and vegetables, cilantro is a good source of antioxidants. Using cilantro to flavor food can also help to cut down on sodium intake. This  Cilantro Dressing is dairy-free and vegan, made with just a handful of all-natural ingredients.
Ingredients
8 tablespoons silken tofu
3 tablespoons lime juice
3/4 cup water
1 cup fresh cilantro , loosely packed
1 clove garlic , minced
1/2 teaspoon Stevia
black pepper , to taste
1/4 whole seeded jalapeno, depending on your preference for heat
1 tsp onion powder
Bragg Liquid Aminos to taste
Instructions
Combine all of the ingredients in a high-speed blender and blend until smooth. Adjust any seasoning to taste, then store it in the fridge until ready to use. Leftover dressing can be stored in an airtight container in the fridge for up to 4 days.