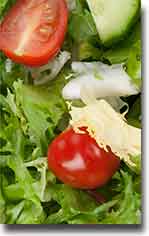 You'll love this recipe for easy hummus vinaigrette salad dressing, using purchased or homemade hummus. Delicious on all sorts of fresh salads. Transform your greens and vegetables with this bright, fresh, aromatic oil-free salad dressing without all the calorie dense oil.
Serves: ⅓ cup
Ingredients
3 tablespoons Chickpeas (garbanzo beans), canned, drained
2 tablespoons balsamic vinegar
3 tablespoons orange juice
1 teaspoon dijon mustard
½ teaspoon fresh grated ginger
½ clove garlic, chopped (optional)
fresh ground black pepper to taste
Instructions
Whisk together. Taste and season with ground black pepper.
Recipe Note
If saltier taste is needed, add Bragg Liquid Aminos to taste.