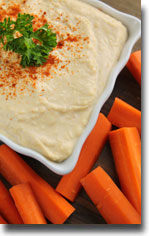 Hummus was the perfect food for arid, rugged climates as it filled almost all of a person's nutritional needs while still being exceptionally flavorful. In fact, hummus has enough protein and fiber to keep our bodies healthy for long periods of time. Also, this relatively simple food is amazingly rich in minerals and vitamins.
Number of servings: 8, 125 calories per serving.
3 cups cooked chickpeas (or 2 15-ounce cans, 1 drained)
3/4 to 1 cup water or chickpea cooking broth (or the liquid from 1 can of chickpeas)
2 to 4 cloves garlic, peeled
2 tablespoons tahini (or 4 tablespoons sesame seeds)
2 to 4 tablespoons fresh lemon juice
1/4 to 1 teaspoon cumin
1 medium jalepano diced
1/4 teaspoon smoked paprika
1/8 to 1/2 teaspoon chipotle chili powder or cayenne pepper
Braggs Aminos to taste
Place all ingredients except salt in the blender in the order listed, using the smaller amounts. Start the machine on low and increase speed to high. Use the Vitamix plunger to break up air pockets and push chickpeas toward the blades, if necessary. (Other blenders: Stop and use a spatula to do this.) If the mixture is too thick, add additional water a little at a time. Turn up to the highest speed and blend for a few seconds until hummus is completely smooth. Stop blender and taste the hummus. Add additional seasonings and salt to taste and blend briefly to combine. Store hummus in a sealed container in the refrigerator. It's best after it's had a chance to rest for at least an hour, but use within a week.
Try adding any one of the following during the last brief blending: roasted red peppers, sun-dried tomatoes, chipotle chile peppers, green onions, caramelized onions, roasted garlic, jalapeno peppers, black or green olives, balsamic vinegar, spinach, or smoked salt.