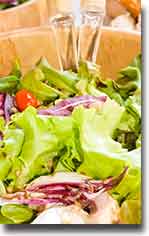 Poppy seed is an oilseed obtained from the poppy (Papaver somniferum). The tiny kidney-shaped seeds have been harvested from dried seed pods by various civilizations for thousands of years. It is still widely used in many countries, especially in Central Europe, where it is legally grown and sold in shops. Transform your greens and vegetables with this bright, fresh, aromatic oil-free poppy seed salad dressing without all the calorie dense oil.
Serves: ¾ cup
Ingredients
½ cup fresh lemon juice
1 clove garlic, chopped
½-inch knob of ginger, peeled and chopped
½ teaspoon Stevia
1 tablespoon dijon mustard
Fresh ground black Pepper
6 tablespoons water (or more if needed)
1 tablespoon poppy seeds
Instructions
Add all the ingredients except for the poppy seeds into a food processor or blender. Process until smooth. Taste – adjust seasonings and add more water if too tart. Add poppy seeds.
Recipe Note
If saltier taste is needed, add Bragg Liquid Aminos to taste.