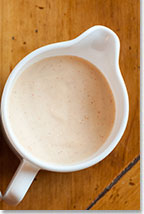 Garlic is a species in the onion genus, Allium. Its close relatives include the onion, shallot, leek, chive, and Chinese onion. The garlic plant's bulb is the most commonly used part of the plant. With the exception of the single clove types, garlic bulbs are normally divided into numerous fleshy sections called cloves. Garlic cloves are used for consumption (raw or cooked) or for medicinal purposes.
Makes 1 cup
Ingredients
1/2 cup of tahini
5 roasted cloves of garlic
3 tablespoons of balsamic vinegar
1/2 cup of water
1 teaspoon of cumin
Instructions
In a blender or food processor blend the tahini, garlic, vinegar, water, cumin, and salt until smooth and creamy. Add more water if the dressing is too thick to pour.
Recipe Note
If a saltier taste is desired, add Bragg Liquid Aminos to taste.