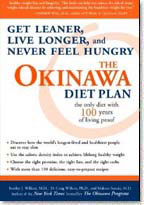 The Okinawa diet is a nutrient-rich, calorie-rich, quasi-vegan diet from the indigenous people of the Ryukyu Islands, a chain of volcanic Japanese islands. Historically, people from the Ryukyu Islands, of which Okinawa is the largest, have had a life expectancy among the highest in the world.
The traditional diet of the islanders is mainly plant based, containing 30% green and yellow vegetables with sweet potato as the staple. The Okinawan diet has only 25% of the sugar and 75% of the grains, such as rice, of the average Japanese dietary intake. The diet includes a relatively small amount of fish of about half a serving per day. More protein comes in the way of soy and other legumes, which make up about 6% of the total caloric intake.
By modern standards, their overall traditional diet would be considered a very-high-carbohydrate diet with carbohydrates, protein, and fat providing 85%, 9% and 6% of total calories respectively. The consumption of pork in Okinawa in 1979 was about 17 pounds per person per year, with pork being eaten only on holidays. This may be contrasted with the average consumption of meat in the United States, which, in 2005, included 62.4 pounds of beef, 46.5 pounds of pork, and 73.6 pounds of poultry per person per year. Virtually no eggs or dairy products are consumed in the Okinawan diet.
Research has found that an Okinawan reaching 100 years of age has typically had a diet that averaged about one calorie per gram of food. Additionally, he or she had a BMI of 20.4 in early adulthood and middle age.
In addition to higher life expectancy, islanders are noted for their low mortality from cardiovascular disease and certain types of cancers. Researchers have compared the mortality of Okinawans versus Americans and found that, during 1995, an average Okinawan was 8 times less likely to die from coronary heart disease, 7 times less likely to die from prostate cancer, 6.5 times less likely to die from breast cancer, and 2.5 times less likely to die from colon cancer than an average American of the same age.
The traditional Okinawa diet was practiced on the islands until about the 1960s when  dietary practices shifted towards Western and Japanese patterns, with fat intake rising from about 10% to 27% of total caloric intake and the sweet potato being supplanted with rice and bread.
In addition to the islander's diet, there is a weight-loss diet that bears the same name which is based on this standard diet of the Islanders. The diet contains similar foods to the traditional Okinawan diet and the focus of the diet consists of knowing the food energy density of each food item.
Proponents of this diet divide food into four categories based on caloric density: 1) featherweight foods, less than or equal to 0.8 calories per gram which one can eat freely without major concern, 2) lightweight foods with a caloric density from 0.8 to 1.5 calories per gram which should be eaten in moderation, 3) middleweight foods with a caloric density from 1.5 to 3.0 calories per gram which should be eaten in small quantities, and 4) heavyweight foods from 3 to 9 calories per gram which should be eaten only sparingly.
Authors: Bradley J. Willcox and D. Craig Willcox
Year of Release: 2005