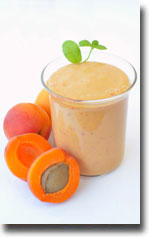 In the South, they're known for our peaches, and they're the state fruit here in South Carolina. They're certainly a delicious treat in the summer. Juicy and sweet, peaches add so much flavor to homemade desserts and snacks, like this easy Peach Fruit Smoothie Recipe. You can enjoy smoothies all year in your home. A great blender makes it easy to whip up a variety of smoothie combinations.

Number of servings: 1, 290 calories per serving.
Ingredients:
1 peach
1 cup green tea
6 ounces silken tofu
Instructions:
Combine everything into your blender and blend.
Add more water if needed to get things moving around in the blender.
Garnish with sprouts if desired.