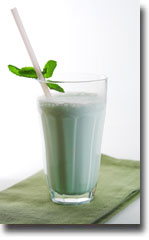 Peppermint is a hybrid mint, a cross between watermint and spearmint. The plant, indigenous to Europe and the Middle East, is now widespread in cultivation in many regions of the world. It is found wild occasionally with its parent species. Peppermint is used for the common cold, cough, inflammation of the mouth and throat, sinus infections, and respiratory infections. It is also used for digestive problems including heartburn, nausea, vomiting, morning sickness, irritable bowel syndrome (IBS), cramps of the upper gastrointestinal (GI) tract and bile ducts, upset stomach, diarrhea, bacterial overgrowth of the small intestine, and gas.
Number of servings: 1, 350 calories per serving.
Ingredients:
1 cup frozen watermelon cubes
1 banana, frozen
6 ounces silken tofu
1/3 cup diced mint leaves
Drop peppermint oil
Instructions:
Combine everything into your blender and blend.
Optional: serve with coconut whipped cream on top.