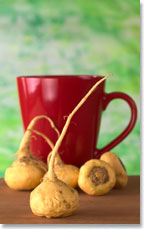 Maca (Lepidium meyenii walp) is sometimes called the "Peruvian Ginseng." Maca is native to the Andean mountain plateaus of Peru and grows where no other crops can survive, at altitudes of 14,000 feet in an extreme climate of freezing cold fierce winds and intense sunlight. Research with animals has suggested that maca can reduce the negative impact of stress.
Maca has antioxidant properties and supports adrenal glands, resulting in greater energy, stamina, mental clarity and ability to handle stress.
Maca can help fatigue brought on by aging and stress. It raises DHEA and cortisol levels, which are depressed due to the burden upon the adrenal glands from long-term stress.
How Maca is Processed in Herbal Medicine
After maca iz roasted, the root of the plant tastes like butterscotch. Maca contains essential fatty acids and a high nutritional content. It is considered something of a nutritional powerhouse when it comes to stabilizing the body and helping both women and men combat physical problems as well as memory loss.
Legend has it that during the Incan Empire, the soldiers consumed maca before going to war because it gave them strength and endurance. However, they were banned from taking it at other times in order to protect women who had been taken into captivity from their sexual impulses, which were powerful due to their maca consumption.
Taking maca regularly can result in numerous benefits, including serving as a natural herb for women going through menopause. Maca reportedly balances hormones and eliminates or reduces hot flashes; increases energy and stamina; promotes mental health.
Maca is also known to restore lost libido and reproductive processes, enhance fertility, fight fatigue, combat anemia, boost immunity, lower high blood pressure and raise low blood pressure. It is also a powerful adaptogen, which means that is helps the body's various systems to stabilize and balance during periods of stress.