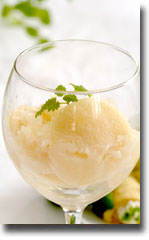 A quick and easy sorbet to serve after any meal with a bit of kick to it: Mexican, Indian, Thai, etc. You'll need a good blender or Vitamix. There is nothing quite like the bracing aroma of freshly cut, perfectly ripe pineapple.  Can you imagine having a pineapple tree in your backyard?  How awesome would that be?
Serves 4, 340 calories per serving.
Ingredients:
2 bananas, ripe
1 1/2 cups frozen pineapple
1/2 cup coconut milk
1/2 teas Stevia
Directions:
Slightly thaw the frozen fruit so that it easily blends.
Add all ingredients to a high speed/high quality blender like a Vitamix.
Blend until smooth but do not overblend. Keep mixture as thick and frosty as possible.
Pour into a chilled metal container.
Chill until firm, then serve.