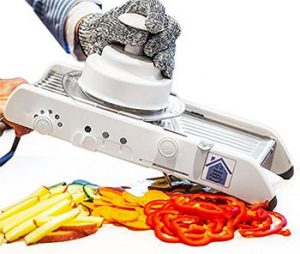 As the name implies, this is a professional grade mandolin vegetable slicer. Simple and easy to use. There is no need to replace blades.
All thickness adjustments are achieved with the turn of a knob. One knob changes the cutter slicing thickness, the second knob adjusts from straight to julienne slicing and the third changes from straight to waffle cut
It's easy to use and the safety guard attaches to the side of the mandolin and glides on runners to make it ultra protective and to ensure that your hand does not slip when sliding over the blade.
It combines fixed pins on both the central and outer rim of the guard with additional long metal pins that can accommodate substantial thicknesses and different shapes of fruit or vegetable. The long metal pins retract as the item reduces in size.
This high quality mandolin guarantees regular sized, even slices for consistency and to ensure even cooking. The sharp blade makes slicing easy and safe. The Large hand guard accommodates all sizes of fruit or vegetable and the long and wide glide plate allows even strokes to cope with round vegetables like potatoes and onions and long ones such as courgettes and carrots.
The glide plate has a stainless steel surface for performance and cleanliness. It is very quick and simple to use allowing all changes to size and shape of cuts to be made through turning one of the three knobs on the side of the mandolin. This gives the home cook many options for chips, sliced fruit and vegetable, waffle cut chips or varying thickness of French fries.
Create so many different dishes, from beautiful healthy salads, fruit salads and coleslaw, to waffle potatoes and fine or chunky chips. Slice ginger, garlic or nutmeg, cheese and chocolate – the list is endless.