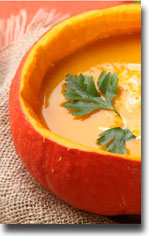 Pumpkin soup is a usually bound soup made from a puree of pumpkin. It is made by combining the meat of a blended pumpkin with broth or stock. It can be served hot or cold, and is a popular Thanksgiving dish in the United States.  Roasting the pumpkin is the only part of this recipe that takes any length of time. And once it's done, this soup comes together fast.

Number of servings: 6, 190 calories per serving.
Ingredients:
1 tablespoon olive oil
½ onion, diced
½ pumpkin, peeled and cubed
4 cloves garlic, minced
1 tablespoon fresh rosemary, diced
4-5 cups vegetable broth
½-1 cup coconut milk
Directions:
Heat oil in pot over medium heat. Add onion and cook for a few minutes until translucent. Add pumpkin and garlic and continue to cook for a few more minutes.
Add rosemary and vegetable broth. Bring to a boil, reduce heat to low and simmer until pumpkin is soft and cooked through. Add salt to taste.
Puree soup in a blender (in batches) and return to the pot.
Add coconut milk and simmer for another minute or two.