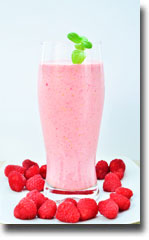 Wonderfully delicious, bright-red raspberry is among the most popular berries to relish! They are rich sources of health promoting plant-derived chemicals, minerals, and vitamins that are essential for optimum health. Low in calories and fat, cholesterol-free and high in fiber and vitamin C, raspberries are a heart-healthy food. Raspberries can be found in assorted colors including gold, black and purple, but red raspberries are the most common. These fruits are as nutritious as they are beautiful.

Number of servings: 1, 325 calories per serving.
Ingredients:
6 ounces silken tofu
2 cups fresh raspberries
1/4 teas Stevia
Instructions:
Combine everything into your blender and blend.
Optional: serve with coconut whipped cream on top.
Click here for the Coconut Whipped Cream recipe