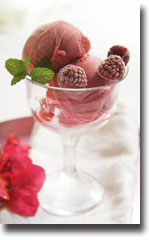 Raspberries are related to the rose family of plants. In ancient times they were as much valued for their tea leaves as their fruit. Archaeological evidence shows that Paleolithic cave dwellers ate raspberries. The delectable fruit has been a part of the human diet ever since. The scientific name for red raspberries, Rubus idaeus, means literally "bramble bush of Ida", named both for the nursemaid and the mountain where they grew on the island of Crete.

Serves 4, 300 calories per serving.
Ingredients:
2 cups frozen raspberries
1/2 cup lemon juice
1/2 teas Stevia
1 banana, ripe
Directions:
Slightly thaw the frozen fruit so that it easily blends.
Add all ingredients to a high speed/high quality blender like a Vitamix.
Blend until smooth but do not overblend. Keep mixture as thick and frosty as possible.
Pour into a chilled metal container.
Chill until firm, then serve.
Optional: serve with coconut whipped cream on top.
Click here for the Coconut Whipped Cream recipe