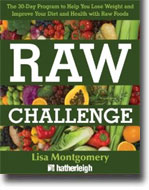 Raw Challenge: The 30-Day Program to Help You Lose Weight and Improve Your Diet and Health with Raw Foods makes it fun and easy to adopt a healthy, raw vegetarian diet… in just 30 days. The Raw Challenge program guides you, day by day, towards a healthier way of life and takes the guesswork out of your raw food experience.Raw Challenge features a 30-day planner, complete with daily recipes, helpful hints, and words of wisdom from raw food experts. It also includes success stories and easy-to-follow tips to keep you going strong during your diet and health make-over.
Raw Challenge can help you:
Improve your health and lose weight
Find the best way to transition to a raw diet
Prepare a wide variety of delicious, nutritious raw food recipes
Stay motivated with testimonials and inspiring words
Stay on track with helpful hints by raw food experts
Raw Challenge features over 50 delicious, original recipes from Lisa Montgomery and her Raw Challengers, including:
Cinnamon Morning Smoothie
Smokey Backyard Tomato Soup
Raw Vegetable Pasta
Baby Bella Burgers
Summer Squash Slaw
Raw Thai Curry
Chile Con Amore
Spicy BBQ Zucchini Chips
Mango Tango Cake
Green Tea Ice Cream
The Raw Challenge says that you are in control of your diet and your life and helps you maximize the potential of your food—and yourself. Whether you want to lose weight safely or just add a healthier approach to your eating habits, this plan is for you.
Author: Lisa Montgomery
Year of Release: 2013