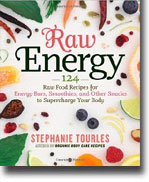 Raw Energy: 124 Raw Food Recipes for Energy Bars, Smoothies, and Other Snacks to Supercharge Your Body show it's time to rescue snacks from the realm of empty-calorie packaged junk food and transform everyday pick-me-ups into healthful, satisfying mini meals.
Why waste calories on cookies or chips that have no nutritional value and provide only short-term satisfaction when raw foods are delicious, simple to prepare, and bursting with natural energy boosters that everybody needs to stay fit and healthy?
Thanks to Raw Energy, it has never been easier to add a full spectrum of raw ingredients to a healthful lifestyle. Author Stephanie Tourles's 125 recipes for trail mixes, parfaits, energy bars, juice blends, smoothies, soups, vegetable chips, zippy dips, candies, and cookies combine raw ingredients in delicious snacks that are chock-full of nutrients and long-term energy boosters.
Made from real, whole foods that are uncooked, unadulterated, and unprocessed, these snacks are 150- to 250-calorie packages of health and vitality, dense with naturally occurring vitamins, minerals, fiber, and enzymes. The snacks in Raw Energy do not rely on refined white flour or sugar, they are not cooked in any way, and, with the exception of honey, they do not use animal products.
They do include raw nuts and seeds, nut butters, dried and fresh fruits, oats, carob, cocoa, freshly extracted juices, and vegetables. They taste great and are easy to digest. Tourles provides a complete overview of the benefits of raw foods, along with an introduction to "uncooking" techniques and an ingredient-by-ingredient food guide. For anyone looking for more nutritional punch from low-calorie snacks, Raw Energy provides 125 tasty starting points.
Author: Stephanie L. Tourles
Year of Release: 2009