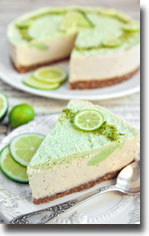 The Key lime is a citrus hybrid that is actually yellow when ripe but usually we see it as green commercially. The Key lime is smaller and seedier, with a higher acidity, a stronger aroma, and a thinner rind, than that of the more common Persian lime. The Key lime is valued for its unique flavor compared to other limes, with the Key lime usually having a more sweet and bitter flavor. The name comes from its association with the Florida Keys, where it is best known as the flavoring ingredient in Key lime pie.
Serves 8, 400 calories per serving.
Ingredients for the crust:
2 cups raw almonds or pecans
2 tbsp unsweetened coconut flakes
1/4 cup date paste (about 1/3 packed cup of whole pitted dates, pureed in the food processor)
1/4 tsp gluten-free vanilla extract
1/4 tsp sea salt
Ingredients for the key lime filling:
3 cups raw macadamia nuts
1 cup almond or coconut milk
1 cup pure key lime juice
3/4 cup raw agave nectar
1 tsp vanilla extract
3/4 cup coconut oil, melted
CRUST
Using a food processor, process the almonds/pecans and coconut to a coarse meal.
Add the date paste, vanilla and salt and process until well combined.
Press the dough evenly into the bottom of an 8-inch springform pan.
FILLING
Using a food processor, blend the macadamia nuts, almond/coconut milk, key lime juice, agave nectar and vanilla until smooth and creamy, (about 3 to 5 minutes).
Pour into the springform pan with the crust.
Gently tap the pan on the counter to remove any air bubbles.
Place the finished cheesecake in the freezer to set, about 2 hours, or until the middle of the cheesecake is firm to the touch.
Decorate with a  layer of lime zest and sliced limes before serving.
Optional: serve with coconut whipped cream on top.
Click here for the Coconut Whipped Cream recipe