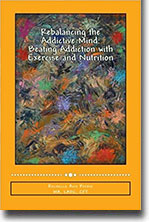 Many books cater to the fitness and nutritional needs of the general public. But little of this advice is specifically directed toward those who have the literally life-or-death need to keep alcohol, drug, gambling, sex, internet and other addictions at bay.
How exercise and diet speed up the recovery process and promote relapse prevention is a case rarely made, even by most treatment facilities. Rebalancing the Addictive Mind is an evidence-based, accessible guide that explains how and why exercise and diet produce faster physical, psychological and emotional recovery from addiction and significantly reduce the chances of relapse.
This book is about how anyone, despite almost any age or infirmity, can benefit from the principles outlined in this book. Author Shelley Poerio, a licensed addiction counselor and certified fitness trainer, describes how substance dependence and behavioral compulsions change the brain and body, provides guidance and solutions to undo the damage, and motivates change in the recovering individual.
Family members gain insight into how to support their loved-one in recovery and better understand how addictive thinking and behaviors get out of control. Counseling and medical professionals will appreciate the cognitive-behavioral, solutions-focused therapeutic approach and the integration of exercise and nutritional concepts with 12-step recovery principles.
Poerio bases her case on the biochemical science of addiction. In the early sections of the book, she examines the anatomy and functions of the brain, and explains the ability of substance and behavioral addictions to exploit brain chemistry and create cravings and dependence. A crucially important aspect of this story, for teenagers and their parents, is that teens are particularly susceptible to developing addictions. Fortunately, the biochemistry of addiction can be turned against itself.
Many of us know the positive feelings of well-being that result from working out and eating well. Rebalancing the Addictive Mind reveals in detail why this is just what the doctor ordered to fight addictions. Exercise and diet are uniquely qualified to replace the highs produced by drugs and alcohol, and undo the damage they cause.
Aerobic and strength training act as safe substitutes that stimulate the brain's neurotransmitters in much the same way that addictive substances do. Exercise promotes improved brain function and neuronal growth. Proper nutrition prevents the mood swings that can provoke a relapse, and corrects the addiction-caused deficiencies that harm major organs and bodily processes. With a bristling arsenal of therapeutic weapons, exercise and diet use restorative biology to fight the biology of addiction, and empower the brain and body to heal themselves.
Poerio – a former track athlete at Stanford University – draws not only on the latest research, but on her own experience. The plans she outlines combine elements of her workouts with future pro and Olympic athletes at Stanford, and with young (and old) substance abusers as the counseling/fitness-program developer at the Phoenix House of the Mid-Atlantic in Arlington, Virginia.
All of her strategies are easy to put into practice, and set realistic goals. They produce encouraging results for the average person in recovery in part because they are simple to do and likely to be used regularly. Above all, however, Rebalancing the Addictive Mind speaks to and motivates its readers on a very personal and understanding level.
Poerio, an alcoholic/addict in recovery since 2001, introduces the book by describing her own substance-induced suicidal ideation that forced her on the road to rehabilitation. Her book includes simple anecdotes – about her work to help her clients and herself – that make it clear she has "been there and done that," and that anyone armed with her book and the willingness to put in some work can do it too.
Author:  Rochelle Ann Poerio
Year of Release: 2014