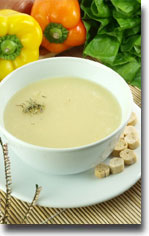 If you're one of those who enjoy warm, velvety soups, this is perfect for you. And if your a mashed potato lover, this soup is definitely for you. The fennel gives such a nice flavor. I've always loved the look of fennel with its frilly fronds, so delicate. This soup is great all year around and especially for the winter holiday menus. It makes for a great starter soup to your holiday celebrations that aren't adorned with mashed potatoes.

Number of servings: 6, 190 calories per serving.
Ingredients
2 lbs yukon gold potatoes, cut into 1 inch chunks
2 large or 3 small fennel bulbs, sliced into 1 inch slices (reserve some fronds for garnish)
1 medium onion, peeled and cut into 1/2 inch slices
pepper to taste
Braggs Aminos to taste
2 cups water or vegetable broth
2 cups unsweetened almond milk
Instructions
Using two large rimmed baking sheets lined with parchment paper or silpat, place potatoes on one, and fennel & onion on the other. . Place in oven on separate racks and cook for 30 minutes or so, tossing half way through and rotating sheets as needed. Potatoes should be fork tender. Reserve a few fennel pieces for garnish if you like.
In a large pot, add water/broth and milk. Add vegetables and using an immersion blender, puree until desired consistency, add more liquids as needed. You may like your soup a little chunky or smooth. You may also use a blender/food processor to puree the soup (this method may take two batches to complete). Taste for flavor adding more salt & pepper as needed.
Bring the pot to the stove and heat soup over medium low until warmed through.
Fill individual bowls and top with reserved fennel and fresh cracked pepper. Pairs well with crusty bread of choice.