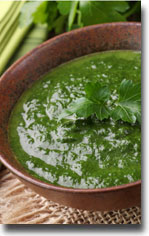 Green sauce is the name of several different sauces containing mainly herbs, namely the Italian salsa verde, the French sauce verte, the Spanish salsa verde and the German Grüne Soße or Frankfurter Grie Soß (Frankfurt dialect). This recipe is a Mexican salsa verde which is based on tomatillos. The tomatillo, also known as the Mexican husk tomato, is a plant of the nightshade family bearing small, spherical and green or green-purple fruit of the same name. Tomatillos originated in Mexico and were cultivated in the pre-Columbian era.

Number of servings: 6, 190 calories per serving.
Ingredients:
Directions:
Place tomatillos, onion, garlic, and chile pepper into a saucepan. Season with cilantro, oregano, cumin, and Braggs; pour in water. Bring to a boil over high heat, then reduce heat to medium-low, and simmer until the tomatillos are soft, 10 to 15 minutes.

Using a blender, carefully puree the tomatillos and water in batches until smooth.