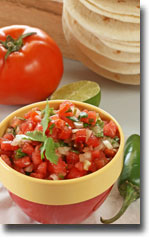 The history of Salsa sauce originated with the Inca people. Salsa (combination of chilies, tomatoes and other spices) can be traced to the Aztecs, Mayans and Incas. The Spaniards first encountered tomatoes after their conquest of Mexico in 1519-1521, which marked the beginning of the history of Salsa sauce. Aztec lords combined tomatoes with chili peppers, ground squash seeds and consumed them mainly as a condiment.
Serves 6, 100 calories per serving.

Ingredients:
3 roasted tomatillos, chopped

1/2 white onion, diced

1/3 cup cilantro, chopped

2 Serrano pepper, roasted, chopped

1 lime, juiced

3 cloves of garlic

3 Tbsp orange juice

1/4 tsp Stevia

Dash cayenne

Braggs Aminos to taste

1 tsp black pepper

Directions:

Roast peppers and tomatillos over gas stove or in broiler oven.

Peel off any black marks.

Chop ingredients.

Add all ingredients to blender, except for one Tbsp of chopped onion and a pinch of cilantro.

Blend well until salsa becomes smooth. Do not over blend. If the salsa is too thick, add more orange juice.


Pour salsa into a serving bowl.

Stir in excess onions.

Top with cilantro garnish.

Salt and pepper to taste.

You can also add additional Serrano, jalapeno or habernero peppers for more heat. Habernero peppers are the hottest. If you want to make this hotter add 1/4 to 1 fresh habanero, stemmed, seeded, deveined and finely chopped.