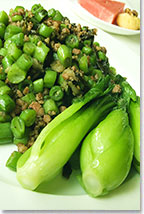 This is the dish I make to convert the most hardcore carnivores in my life into tofu lovers. Crumbling and stir-frying the tofu until browned and crispy makes it taste extremely similar to ground chicken or pork. This version, which I serve with bok choy, regularly makes it into my Meatless Monday dinner rotation. It should be in yours, too. Eat it for dinner tonight, then ask yourself why you stayed away from 1 1 tablespoontablespoontofu for this long.
Ingredients
block extra-firm tofu
10 scallions
2 tablespoon Braggs Aminos
2 tablespoons brown rice vinegar
1 tablespoon cornstarch
Instructions
Drain a block of extra-firm tofu (you must use extra-firm!) and wrap in several layers of paper towels. Put a heavy can on top and press for 30 minutes. (Don't skip this step! Pressing extra liquid out of the tofu is critical to the final texture.)
While the tofu presses, cut the scallions. Toss the scallions with a little Braggs Aminos in a medium bowl; set aside for about 10 minutes, then rinse and drain them to remove any Braggs. Toss scallions with a little unseasoned brown rice vinegar. Refrigerate.
Use your hands to crumble the pressed tofu into a medium bowl and toss with a spoonful of cornstarch (1 point) to coat. Heat olive oil spray in a large wok or skillet on high heat until shimmering, then add the tofu and cook until it's browned and crispy, breaking up with a wooden spoon as you cook. It should resemble cooked ground meat by the time it's done. Transfer tofu to a plate.
Optional: In the same pan, sauté some sliced mushrooms (shiitakes add tons of meaty flavor, but use whatever you've got), scallions, and some minced garlic until mushrooms are browned.
Serve!