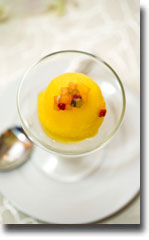 The mango is a juicy stone fruit belonging to the genus Mangifera, consisting of numerous tropical fruiting trees, cultivated mostly for edible fruit. The majority of these species are found in nature as wild mangoes. When using mangoes in a recipe, look for ripe mangoes that yield easily to the touch, because they will have the most vibrant flavor to play off the warming spices in this refreshing sorbet.
Serves 4, 300 calories per serving.
Ingredients:
1 1/2 cups frozen mango
1 banana, ripe
1/3 cup lemon juice
1/2 teas Stevia
Dash of cayenne powder
Directions:
Slightly thaw the frozen fruit so that it easily blends.
Add all ingredients to a high speed/high quality blender like a Vitamix.
Blend until smooth but do not overblend. Keep mixture as thick and frosty as possible.
Pour into a chilled metal container.
Chill until firm, then serve.