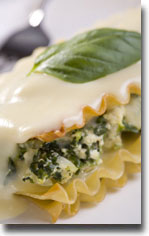 It seems like everyone has a favorite recipe for lasagna, but have you ever wondered about the origins of this ubiquitous comfort food? Like the earliest iteration of pizza, and many other great feats of mankind, the history of lasagna has been traced all the way back to the ancient Greeks. The Greek word laganon, used to describe flat dough sliced into strips, is believed to be the origin of the word lasagna.
Makes 8 servings, 320 calories per serving.
Ingredients:
1/2 pound lasagna noodles
10 ounces fresh spinach
1 package (16 ounces) firm tofu
1 tablespoon granulated sugar (optional)
1/4 cup nondairy milk (such as rice, oat, soy, almond, or hazelnut), or as needed
2 peeled garlic cloves
Juice from 1/2 lemon (about 2 tablespoons
2 tablespoons minced fresh basil (about 20 leaves)
1 teaspoon salt (or to taste)
handful basil leaves for garnish
See below for link to white sauce recipe
Directions:
Preheat oven to 350 degrees F; (180 degrees C, or gas mark 4).
Cook lasagna noodles according to package directions. Drain and set aside.
Use fresh spinach, blanch first.
Place tofu, sugar (if using), milk, garlic powder, lemon juice, basil and salt in a blender or food processor and blend until smooth. This tofu ricotta replacement should be creamy but still have body.
Transfer to large-size bowl, and stir in spinach.
Add salt and taste until you get amount of salt just right.
Cover bottom of 9 x 13-inch (23 x 33 cm) baking dish with a thin layer of white sauce, then a layer of noodles (use about one-third of noodles). See below for link to white sauce recipe.
Follow with half the tofu filling. Continue in the same order, using more white sauce and noodles, and all remaining tofu filling.
End with remaining noodles, covered by more white sauce.
Bake for 40 to 45 minutes, until hot and bubbling.
Top with more white sauce and single basil leaf before serving.
Click Here for White Sauce Recipe