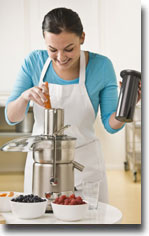 Celery is an excellent source of vitamin K and molybdenum. It is a very good source of folate, potassium, dietary fiber, manganese, and pantothenic acid. Celery is also a good source of vitamin B2, copper, vitamin C, vitamin B6, calcium, phosphorus, magnesium, and vitamin A. Kale is a good source of thiamin, riboflavin, folate, iron, magnesium, and vitamins A, C, K, and B6. Combined they make this Spring Celery Juicer delicious and a powerful source of whole food nutrition.
Number of servings: 1, 180 calories per serving.
Ingredients:
4 stalks celery (juiced or chopped)
2 leaves of kale (any kind of kale will work)
1 English cucumber, peeled and roughly chopped
1 cup water
Instructions:
Combine everything into your blender and blend (depending on your blender, celery made need to go through a juicer first).
Add more water if needed to get things moving around in the blender.