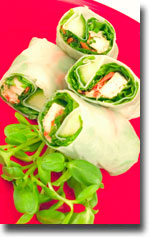 Spring rolls, also named 'spring pancakes' or 'thin pancakes', are a traditional Chinese Chinese New Year food. They are popular around the world, but especially in regions south of the Yangtze River. Before the Tang Dynasty (618–907), everyone made a kind of thin pancake with flour on the day of 'the Beginning of Spring'. People put them in a dish and added special vegetables and fruits. This was called the 'spring dish'. It was sent to relatives and friends as a spring present and blessing.
Servings: 4, 260 calories per serving
Ingredients:
1 (14-ounce) package extra-firm tofu
1 tablespoon sesame seeds
2 heaping cups arugula, very roughly chopped
3 big carrots, julienned
4 cucumbers, julienned
2 red or orange bell peppers, top and bottom removed and sliced into thin strips
3 green onions, thinly sliced into rounds
1/3 cup chopped fresh cilantro
1/3 cup chopped fresh mint
8 sheets rice paper (8 to 10 inches in diameter)
Directions:
Drain the water from the tofu and very gently squish some of the water out of the tofu. Slice the tofu into two slabs by cutting lengthwise through the center. Wrap the slabs in a clean tea towel or paper towels. Stack the slabs on top of each other and place a heavy saucepan or a plate and cans on top to help press out more of the moisture.
Prepare the arugula, herbs and vegetables as directed in the ingredients list above. Set them out on your work surface, with a clean tea towel on the side.
Remove the towels from the tofu and slice each slab into about 7 equal-sized strips (less than 1/2-inch in width). Sprinkle sesame seeds onto a plate or cutting board and gently roll the tofu strips to coat.
Fill a bowl or baking pan with warm water. Place one rice paper in the water and let it rest for about twenty seconds. The sheet should be pliable enough to give to touch but not floppy. Lay it on the towel.
Top the rice paper in a lengthwise orientation with a big sprinkle of arugula, one strip of tofu, a few strips of carrot, cucumber, and bell pepper. Sprinkle with some chopped green onion, cilantro and mint.
Fold over one long side to enclose the filling, then fold over the short sides like you would a burrito, and lastly, roll it up, stretching the remaining long side around the the roll to seal it. Serve the rolls whole or cut in half, with dipping sauce on the side.