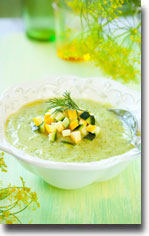 This soup contains the delicious yellow squash, a type of summer squash. Summer squash are squashes that are harvested when immature, while the rind is still tender and edible. Nearly all summer squashes are varieties of Cucurbita pepo, though not all Cucurbita pepo are considered summer squashes. The delicate flavor, soft shell and creamy white flesh of summer squash is a perfect addition to any summer meal.

Number of servings: 6, 190 calories per serving.
Ingredients:
2 yellow squash
2 medium zucchini
1 bunch broccoli
1 onion, chopped
4 cups vegetable stock
pepper
Bragg Liquid Aminos to taste
Directions:
Remove and discard tough lower stalk of each broccoli. Peel remaining stalk.
Finely chop stalk and florets (you should have about 4 cups). Set aside.
Chop zucchini and squash and set aside.
Heat oil in a medium heavy pot over medium heat. Add onion and sweat until soft and translucent, about 10 minutes.
Add stock and potato and bring to a boil.
Reduce heat and simmer until potato is almost tender, about 12 minutes.
Stir in chopped florets, squash, and zucchini. Simmer until broccoli are very tender, about 10 minutes.
Remove soup from heat and purée in a blender until smooth.
Season to taste with Bragg Liquid Aminos and pepper.