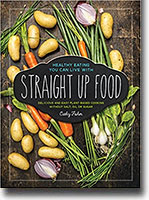 Veteran cooking instructor Cathy Fisher guides you in preparing delicious meals made from the most health-promoting ingredients on the planet! Her recipes call for 100% plant foods: vegetables, fruits, whole grains, legumes, nuts and seeds, and contain no animal-derived ingredients: meat (beef, pork, fowl, fish, seafood), eggs, honey, or dairy products (cow's milk, cream, butter, cheese, yogurt). They are also gluten-free and "SOS-free" (made with no added salt, oil, or sugar).
These are dishes that most of us have been eating all of our lives–they've just been given a makeover! Although Cathy emphasizes whole foods instead of overly processed foods, flavor is not sacrificed: her recipes simply call for more healthful sources of sodium (salt), richness (fat), and sweetness (sugar).
This is not a complicated gourmet cookbook to be admired on the bookshelf, but rather a "let's make really good food so we can feel and look really good" cookbook filled with recipes you will make on a regular basis, like: potato salad, pesto pasta, minestrone soup, ranch dressing, and carrot cake.
Fisher is the creator of the recipe blog StraightUpFood.com, and teaches cooking classes at TrueNorth Health Center and the McDougall Program, both located in Santa Rosa, California. Cathy has thrived on a plant-based diet since 1999.
The specialty of nutrition has been misunderstood for far too long. The future of health care worldwide requires a better understanding of a whole-food, plant-based diet and its enormous nutritional benefits. In making a transition to this dietary lifestyle, one of the biggest challenges is learning how to cook healthy food.
Author: Cathy Fisher
Year of Release: 2016