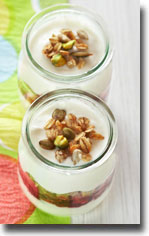 A delicious and beautiful beginning to your day. Yogurt, granola and fruit are layered in a parfait glass. Use your favorite fruit, or whatever is in season. This healthy yogurt parfait recipe combines fresh fruit, Greek yogurt and crunchy granola for an easy breakfast. You can also pack the parfait in a mason jar for a healthy breakfast on the go.
Serves one, 285 calories per portion.
1 cup sliced fresh strawberries
2 teaspoons honey
1/2 cup nonfat plain Greek yogurt
1/4 cup granola
1/4 cup pistachios
Mix honey into plain yogurt. Layer yogurt, fruit and granola in bowl. Enjoy.